You can use your computers arrow keys to scroll up and down this page.
---


To celebrate the 25th anniversary of International Protein Sires,
we will be posting stories on this webpage, that will track the history of IPS.
Check back frequently to see the new stories that are added.
The newest stories will be added at the bottom of this page.

Happy Anniversary International Protein Sires!
----------------------------
The Newest Information Is Added To The Bottom Of This Webpage
It all Started with Starbuck Flip


Cook-Farm Starbuck Flip EX-94



The year is 1991. Marlow Nelson and Alvin Piper spontaneously formed an artificial insemination (AI) company to market a bull that intrigued them. Marlow was visiting dairy herds in the eastern part of the United States with a group of Germans. They expressed interest in buying semen from the bull. Cook-Farm Starbuck Flip was a line-bred Starbuck son. Nelson and Piper began marketing Flip when he was six-years-old through a company they named International Protein Sires (IPS).

Fast-forward to 2016, the year IPS celebrates its 25th anniversary. The company that started with one proven bull has grown into an AI company with almost 115 bulls.
Current IPS Owner and President Ron Sersland's first role with IPS was not selling semen. Sersland helped Nelson and Piper export Holstein heifers to Japan. In 1999, Sersland acquired ownership of IPS from the founders and owns the company with his wife, Nelly.

IPS focuses on domestic and international markets, with each area attributing to about half of the company's business. In 2016, IPS marketed semen to 35 countries internationally. Domestically, semen is available through a network of distributors who partner with IPS across the United States.

What makes IPS different from other AI organizations? This is rooted in IPS' motto, which is "Breeding Cows, Not Numbers." IPS is committed to offering bulls providing dairy producers with simply good and profitable cows from deep cow families. Recognizing dairy producers focus on different selection criteria, IPS offers a line-up of proven and genomic bulls that meets a wide variety of preferences. Another priority is offering bulls that have high conception rates.

To keep current on the genetic offerings as well as IPS company information,
please "like" us on our Facebook page, listed under International Protein Sires.

Information is also available on our website at www.ISPSIRES.com.


IPS Offers Breed-Leading Red & White Genetics


Hylite Barbwire-Red

It is well-known dairy breeders choose mating traits important to their operation. For those who include Red & White Holstein genetics within their selection criteria, International Protein Sires (IPS) has become a trusted and reliable source for high quality Red & White options. As IPS celebrates its 25th anniversary in 2016, the company remains committed to offering breed-leading Red & White genetics.
Two bulls who currently fulfill this are 54HO552 BARBWIRE-RED-ET and 566HO553 RAINY-ET *RC. Both are sons out of Rainyridge Talent Barbara *RC "EX-95," who excelled in the U.S. and Canadian show rings.
54HO552 BARBWIRE-RED-ET is currently the #7 Type daughter-proven Red & White bull. At the 2015 International Red & White Show at World Dairy Expo, BARBWIRE-RED-ET sired 3 of the 7 heifer and yearling class winners. Five BARBWIRE-RED-ET heifers received All-American Red & White recognitions, with two daughters being named unanimous All-Americans, two heifers being named Reserve All-American and one heifer being named Honorable Mention All-American. In the 2015 Junior All-American Awards, three BARBWIRE-RED-ET daughters were named Reserve All-American, one was named High Honorable Mention All-American and one was named Honorable Mention. The 2015 Red & White Heifer of the year, Pa-Lyn-Leigh B Rippen-Red, is sired by BARBWIRE-RED-ET. BARBWIRE-RED-ET also fared well in the 2014 All-American contest, with five offspring nominated.

BARBWIRE-RED-ET has been used around the world and we are excited to see his outstanding daughters worldwide. When his offspring sell in sales and auctions, BARBWIRE-RED-ET daughters are value-added and command higher than average prices. What excites IPS the most about BARBWIRE-RED-ET are the simply outstanding framed daughters he consistently sires. Also a Top 50 Foot & Leg Composite bull of the breed, BARBWIRE-RED-ET has sexed semen available.
566HO553 RAINY-ET *RC has been an exciting Red Carrier for IPS. As the #3 proven Type Red Carrier bull, RAINY-ET *RC sires tremendous type, udders and legs. In 2015 and 2014, a RAINY-ET *RC daughter was recognized each year as an All-American Red & White.
IPS offers some of the best genomic Red & White sires available today. 566HO1231 REV-ME-UP-RED is currently the #4 Type Genomic Red & White bull. His dam was nominated for All-American in 2014. His full brother, 566HO1213 REDNECK-RED is also available from IPS.
This spring, IPS anticipates another commanding Red & White bull to be added to the genomic sire line-up, 566HO1258 AFLUENT-RED. Currently with a GTPI of +2406, IPS anticipates to release him after the April 2016 proof.
One of the best ways to keep current on IPS Red & White genetics is to "like" International Protein Sires on our Facebook page, listed under International Protein Sires. Here, you can see many photos of the beautiful IPS-sired Red & White daughters from around the world. Information is also available on the IPS website at www.ISPSIRES.com.


IPS Offers Genetics for the Most Discerning of Selection Criteria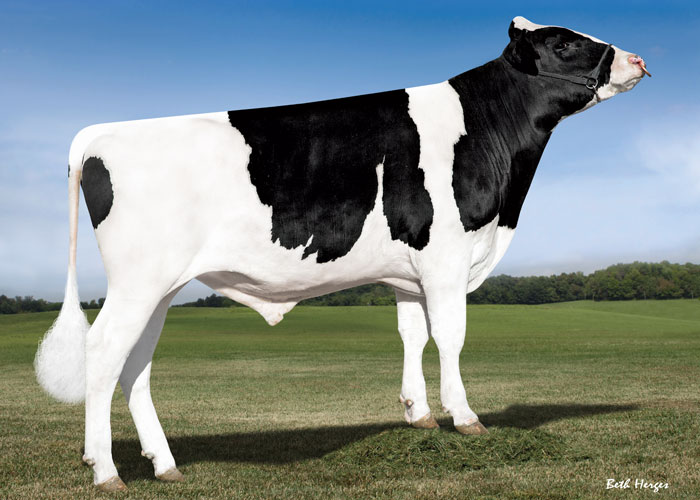 566HO1228 Synergy LETS DEAL *RC *PO
aAa: 456231
DMS: 345/234
Polled & Red Carrier
IPS Offers Genetics for the Most Discerning of Selection Criteria
Genetic selection criteria vary from dairy operation to dairy operation. The dairy industry offers many selection indexes and programs to assist producers to narrow down the vast number of bulls available. Over the years, International Protein Sires (IPS) has listened to the wide range of selection preferences. Rather than offering a narrow range of genetic preferences, IPS has chosen a different route. In the proven and genomic IPS line-ups, producers find many unique sires meeting specific selection criteria.
The IPS sire line-up offers a little bit of something for everyone. In the proven line-up, bulls with high Type, Udder Composite, high GTPI, Calving Ease, high Components and outstanding management traits are offered. The genomic line-up includes breed leaders for GTPI, Net Merit $, Milk, Type, Components and Component Percentages, Red and Red Carrrier sires. In a careful review of the genomic pedigrees, breeders discover nearly every bull comes from multiple generations of proven cow families. As the genetic interval shortens and more heifers are flushed before calving, genomic sires have semen available before their dam has completed a record and/or been classified. Such bulls are carefully chosen from outstanding cow families.
When selection criteria is a bit more unique, here are a few examples of the wide variety of bulls IPS offers.
Polled Genetics:
Polled is quickly becoming a sought-after trait. IPS offers Polled genetics that compete well with high genomic bulls.
566HO1259 RAMP UP *RC *PP is the #3 GTPI Homozygous Polled Bull at +2378 GTPI. He is now a confirmed Red Carrier and the #1 *RC *PP GTPI Genomic Bull.
566HO1234 PICK ME *PP is the #9 GTPI Homozygous Polled Bull at +2206 GTPI.

Unique aAa:
For producers who incorporate aAa in their breeding program, finding a bull with some codes is difficult. IPS has bulls in even the most difficult of aAa traits.
566HO1226 PARIDE is 5436 aAa.
566HO1212 INTENSE - is one of a few 4536 aAa bulls available.
566HO1190 FREEBEE is 534 aAa.
566HO1228 LETS DEAL *RC *PO is 456 aAa, Polled and a Red Carrier.
91HO4607 CUPID has the very unique 651423 aAa.
183HO2024 MARACHI is 642 aAa.
566HO1180 ROLLAG - carries 264 aAa.
Unique DMS:
For herds that utilize DMS, IPS offers bulls with desired DMS codes:
566HO1185 BJORN and 566HO1226 PARIDE have the desired 456 DMS.
566HO1162 LETS GO is 126/246.
566HO1252 ANDRES is not only +3.32 Type, he is DMS 126/561.
High Fertility:
IPS has offered some of the highest conception bulls for several years.
99HO7660 AXFORD is +3.1 SCR.
566HO510 AVATAR *RC is +1.8 SCR.
99HO6145 BARRY has historically been a breed-leader for fertility. He currently is +1.0 SCR with over 8,100 inseminations! This is amazing, as he is often used on cows with conception problems.
Outcross Genetics:
Many of the high genomic sires in A.I. are sired and/or come from similar bloodlines. IPS is committed to offering bulls from unique bloodlines with outcross genetics.
566HO1248 BIGBANG is a low 5.3% EFI.
566HO1193 BARNSTORM has a 5.4% EFI.
Moderate-Sized Cows:
Around the world, dairy producers are asking for more uniform cow size. IPS has heard this request and focuses on offering bulls siring offspring for a variety of operation styles. Some bulls which will sire a more moderate cow include:
566HO1246 CAN DO should sire the rare combination of moderate stature with good strength.
566HO1244 ETHICS has a linear reflecting a moderately-sized cow and is 6.4% calving ease.
Robot Milking Situations:
For producers who use robotic milkers, teat length and placement is very important.
566HO1185 BJORN has a desirable teat placement as well as a slightly longer teat than average; a great combination for robotic milkers. Two genomic bulls that will work with robotic milkers are 566HO1235 ALL GAME and 566HO1257 BOCA JR.
High GTPI Genomic Sires
Looking for high GTPI genomic sires? IPS can fill this need also!
566HO1251 NET WORTH is +2632 GTPI.
566HO1261 JODANDY is +2616 GTPI.
566HO1246 CAN DO is +2599 GTPI.
This is just a sample of the sires with unique traits that IPS offers.

For more information about the IPS proven and genomic sire line-up, please visit our website at www.ISPSIRES.com and "like" International Protein Sires on our Facebook page, listed under International Protein Sires. For more specific information on a bull,
please contact IPS at 800-542-7593 or contact@ipssires.com.

Committed IPS Employees the Backbone of the Company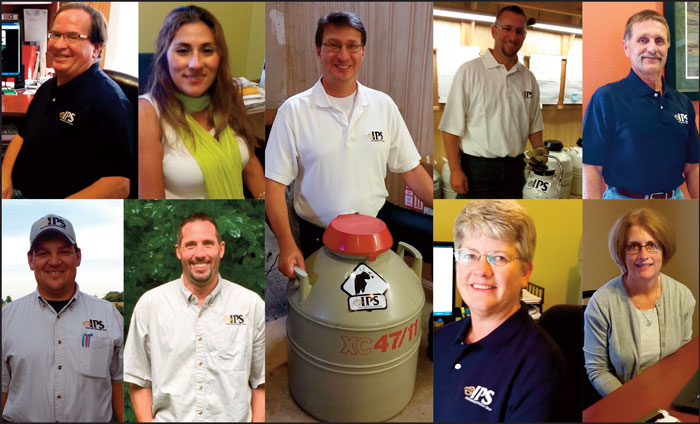 IPS employees are excited to help you!

Top Row (r to l): Ron Sersland, Nelly Sersland, Eric Taylor, J.T. Pfaff and Bob Trainer;
Bottom Row: Anthony Capelle, Charlie Guell, Laura Koenig and Dianne Vielhuber
-----------------------------


When you call or send an e-mail to International Protein Sires (IPS), who is most likely to respond? It could be any of the IPS employees who work together as a team to assist domestic and international dairy producers and sales representatives.
Since IPS is not the largest artificial insemination company, IPS employees often cover multiple responsibilities. While the number of IPS staff is small, all have farming backgrounds (minus one), love the dairy industry and are committed to helping dairy producers achieve their goals. A favorite part of the employee's jobs is how the staff works together as a team. When a project comes up that would be difficult for one person to complete, everyone in the office pitches in and helps finish the task in a timely manner. Some employees work full-time and others work part-time to fulfill company needs.
So just who might answer the phone or reply to an e-mail? Here are the possibilities:
Ron Sersland has been the main person behind IPS for over 20 years. The current President, Ron owns Our Help, Inc. with his wife, Nelly Sersland. Our Help was started in 1991 to assist international people acquire things difficult to get in their native country. In 1999, Sersland purchased 50% of IPS and within a year, became the 100% owner of IPS. Today, IPS and genetics is the main focus of Our Help's business. Ron travels outside of the country about 50% of the time working with IPS' international distributors and producers. He is fluent in Spanish and Porteguese.
Nelly Sersland grew up in Colombia and moved to the United States when she married Ron Sersland. Her family has grown coffee and other fruits over the years. At IPS, Nelly assists with computer work, errands and hosting and organizing events.
Eric Taylor is heavily involved in company sales. When in the office, Eric spends much of his time on the phone, answering questions from dairy producers and IPS representatives. Eric is out of the office regularly, training and assisting IPS representatives. He also works some trade shows and covers IPS routes in Wisconsin and Illinois.
Another full-time office employee is J.T. Pfaff. As the IPS shipping coordinator, J.T. packs nearly all domestic orders and maintains semen inventory records. He assists with many other projects.
Part of Bob Trainer's job is to genetically evaluate potential bulls for sampling in the IPS genomic testing program. In addition, he also runs sales routes in Wisconsin and Minnesota.
Two other full-time employee sales representatives are Anthony Capelle and Charlie Guell. Both reps have regular routes in Wisconsin in which they call on dairy producers.
Every company needs someone to oversee the books and records. For IPS, this person is Laura Koenig. Laura handled the books for the dairy operation she ran with her husband. Now, she handles this responsibility for IPS part-time.

Another part-time employee is Dianne Vielhuber who helps with marketing material production. She develops ads, coordinates domestic catalog production, writes Facebook posts, produces catalogs for international distributors, maintains photo files and other projects.
Because of the small IPS staff, no two days are the same within the office. A highlight for all employees is working with the network of friends and company representatives from around the world. It is not uncommon for staff to communicate with people from multiple countries daily. All employees are committed to working with producers and representatives meet their needs. It is our great opportunity to do so. All IPS employees look forward to assisting you!
For more information about the IPS proven and genomic sire line-up, please visit our website at www.ISPSIRES.com and "like" International Protein Sires on our Facebook page, listed under International Protein Sires. For more specific information on a bull,
please contact IPS at 800-542-7593 or contact@ipssires.com.

IPS Sires Impacting the Holstein Breed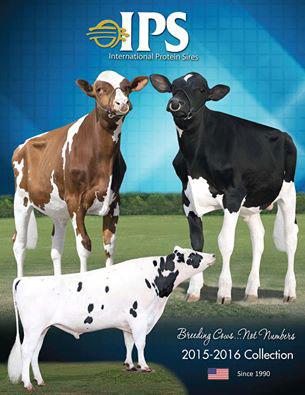 International Protein Sires (IPS) chooses to impact the Holstein breed through outstanding genetics. Each August, an annual sire selection catalog provides information about current sires. Look for a new catalog this August.

---------------------------

Annually, thousands of bulls are chosen to be sampled in the United States and around the world. While many dairy producers dream of breeding a sire that will have great impact within the breed, achieving this is not a simple feat.
Developing and breeding a great proven sire takes years, commitment, risk and things beyond our control. Of all the bulls sampled, only a small percentage of sampled bulls will be marketed actively with daughter proof information by an artificial insemination (A.I.) organization.
In the company's 25-year history, International Protein Sires (IPS) has offered many bulls that have had great impact on the Holstein breed. We share with you a few highlights of bulls that have impacted thousands of dairy herds around the world.
6HO2002 FLIP is the bull who started IPS! A breeder-proven bull, IPS was formed when Marlowe Nelson and Al Piper signed a lease agreement with Gordie Cook Jr. and Kermit Irwin to market FLIP. For more than 10 years, FLIP was a Top 20 Foot & Leg Composite bull. A sire of several Reserve All-American heifers, one FLIP daughter was the dam of a Reserve Jr. Champion of World Dairy Expo. In the U.S., FLIP sired over 3,500 daughters. In Europe and other parts of the world, there were additionally thousands of FLIP daughters.
6HO683 MR MANHATTAN was the first IPS sire to land on the Top 100 TPI List for the world. Proven through IPS' young sire program, MR MANHATTAN was a Starbuck out of Miss Mark Maui. His unique pedigree had no Blackstar or Bell, something very difficult to find among the top TPI bulls at the time.
From the first time 6HO599 MANDELIN had proof information which included daughters, he ranked in the Top 10 for Type, Udder Composite and Foot & Leg Composite. MANDELIN received proofs in countries outside of the U.S. When he received proofs in Spain and Italy, he landed on the Top 10 Udder Composite bull lists for both countries. One particular year, MANDELIN had the largest number of inseminations of all imported bulls in Italy.
100HO9047 MOONSHINE was a breeder-proven bull that made the Top 100 TPI List when daughter information became part of his proof. He continued and remained on the Top 100 TPI list with the arrival of second-crop daughters. MOONSHINE worked well in many herds because he was an outcross bull that sired medium-sized cows with great udders.
6H944 JOEL was a maternal brother to O-Man and was well-sampled through the IPS young sire program. With daughter information in his proof, JOEL became a Top 100 TPI bull. He was also a Top 20 bull of the breed for Foot & Leg Composite.
At the time of his initial sampling, 566HO588 GILBY was a Top 10 GTPI genomic bull. Used as a sire of sons by several different A.I. organizations, GILBY currently has sons waiting daughter-proven proofs at other A.I. companies. When his he was released as a proven sire with daughter information, GILBY was on the Top 100 sires in the world.

Each year, IPS selects many bulls to be sampled. With the advent of genomics, more information often becomes part of the process in choosing which bulls to sample. Yet, sampling sires is still not an exact science. The IPS genetics staff finds great challenge and excitement in selecting the next group of bulls to be sampled. IPS is committed to sampling a wide variety of bulls which meet even the most discerning of breeder's selection criteria. IPS is currently sampling genomic breed leaders for Polled, Red, Red Carrier, Type, Milk, Component and well as unique aAa sires.
For more information about the IPS proven and genomic sire line-up, please visit our website at www.ISPSIRES.com and "like" International Protein Sires on our Facebook page, listed under International Protein Sires. For more specific information on a bull,
please contact IPS at 800-542-7593 or contact@ipssires.com.
---

© 2016 by Dairy Agenda Today. All rights reserved.