You can use your computers arrow keys to scroll up and down this page.
---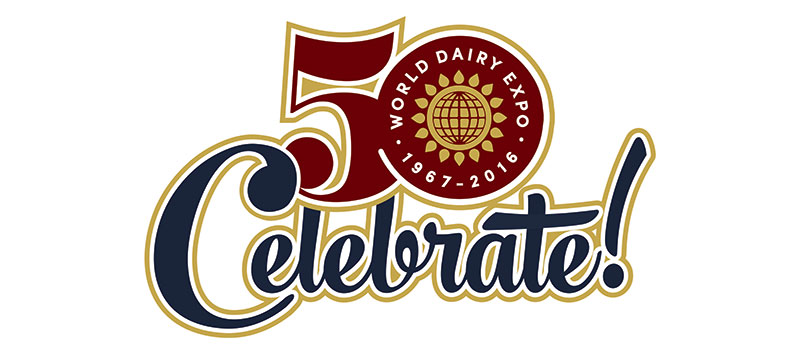 To celebrate the 50th anniversary of World Dairy Expo,
we will be posting stories on this webpage, that will track their history.
Check back frequently to see the new stories that are added.
The newest stories will be added at the bottom of this page.

Happy anniversary World Dairy Expo!
----------------------------
The Newest Information Is Added To The Bottom Of This Webpage


Road to Success: The Early Years of World Dairy Expo®



The very first World Food Expo was held in 1967 and featured banquets, World Food Forums and cattle shows held in the Arena Building. (Photo Credit: World Dairy Expo)



The early years of Expo struggled to draw crowds to events, such as the tractor pull. (Photo Credit: World Dairy Expo)



The Trade Show helped bring in much-needed income to help the show stay afloat. (Photo Credit: World Dairy Expo)



Joe Gilbert, a longtime Expo volunteer, was instrumental in the growth and development of the Trade Show. (Photo Credit: Nina Linton Photography)



Attending nearly every Expo since its inception, Dr. Robert Walton reflects on how much the show has changed and grown from its humble beginnings in 1967. (Photo Credit: World Dairy Expo)



Today, World Dairy Expo is known around the globe as the place where the dairy industry meets. (Photo Credit: Nina Linton Photography)



The World Dairy Expo of today is undoubtedly a success – a landmark that all involved in the dairy industry hope to be a part of each year. But 50 years ago, the success of the show was less certain. Struggles with finances and finding the right focus had the fledgling show on a tipping point between success and failure. It's hard to imagine for those of the generation where World Dairy Expo is a staple, but for those who witnessed the beginnings, it has been a long road to success.

That very first show in 1967 was to be a grand exhibition – 10 days of cattle, food and events. The vision of founders Allen Hetts, Gene Nelson, Howard Voegeli and Norm Magnussen was coming to life. The World Food Expo, as it was called then, had something for everyone – banquets, a tractor pull, World Food Forums, Cinderella of the Dairy World and more. Even so, those first few years struggled to attract attendees to the Expo grounds.

"We had so much trouble getting traction," said Joe Gilbert, a longtime Expo volunteer recruited by then executive director, Bev Craig. "Getting some interest, getting some money, getting anything."

One of the early failures, Gilbert recalls, were the big bands hired to provide nightly entertainment. The goal was to attract attention off the street and to give exhibitors something to do at night. But the anticipated crowds never came.

The show eventually found its footing, focusing less on attracting urban attendees and more on drawing interest for dairy industry members.

"There really weren't many dairy farmers involved with the show in the beginning," said Dr. Robert Walton, past World Dairy Expo Board of Directors member. "It was later on, as we were approaching the 1970s, when the cattlemen and the industry kind of got more involved."
Events such as the National Intercollegiate and National 4-H Dairy Cattle Judging Contests, and a shorter five-day show, provided a more farmer-friendly atmosphere.

Though the show was turning a corner attendee-wise, they still found themselves in financial trouble. "It struggled through not being successful as a Food Expo and was about to go bankrupt," said Walton. "It wasn't going to survive, and that's when we came up with this idea. That's kind of where we started."

The idea was to form a corporation, World Dairy Expo, Inc., and sell stock to dairy businesses and producers for a seat on the Board of Directors. As CEO of ABS, Walton purchased stock from the new corporation and began his term as an Expo board member, a role in which he served for 38 years. With the implementation of the ownership system, the World Dairy Expo as we know today started to take shape.

The Trade Show also played a key role in the financial stability of the show. "We recognized that we needed that source of income," said Walton. "There was a great need for new things in the industry – equipment, genetics, milking machines – everything to do with making a dairy farm work."

The idea of the Trade Show took off slowly, with no real sales strategy in the early years. It wasn't until Tom McKittrick became general manager in 1988 that the Trade Show turned a corner. "Tom came in, sat me down and said 'You're the new sales manager,' and I said 'I don't know anything about selling space,'" recalls Gilbert. "The next morning, Tom threw a bunch of farm magazines on my desk and said 'There are a lot of ads in here, call those people.' And that worked! By the next year, we had increased the sales space from 300 booths to more than 600."

Even amid these early struggles, Expo continued to move forward. The relationship between staff, volunteers and board members was crucial in getting the job done. "There were problems, but we called them challenges," said Gilbert. "Everybody went to work and didn't ask credit for it, but they received credit one way or another. There was a reward in the sense of having done something worthwhile. It was the spirit of a mission, and that was to make Expo a world-class venue."

Flash-forward 50 years, and it's no doubt that their mission was a success. When asked if in the early years he ever imagined Expo would become the international success that it is today, Gilbert replied with a firm, "Absolutely not. Zero. Zilch."
After retiring from volunteering and not attending the show for several years, Gilbert said he couldn't believe his eyes at the changes that had taken place upon his return last year. Expo's educational program, the size and scope of the Trade Show and the feeling of cohesiveness throughout the show really impressed him.

For Walton, it's the people that make Expo what it is today. "This is the gathering place, truly, of the dairy industry for the whole world," he said. "If it wasn't before, it certainly has become that."

It is truly an impressive feat to have built something from nothing into the most iconic dairy industry event in the world. Whether they knew it at the time or not, those who were lucky enough to be a part of Expo from the beginning were making history. As we celebrate Expo's golden anniversary, we look to the past to reminisce and thank those who built this historic show. But we also look to the future, and 50 more years as the place where the dairy industry meets.



View from the Top: World Dairy Expo's Supreme Champions
The lights go down; the spotlight comes up. Seven of the most elite dairy cattle in the world stroll across the colored shavings to battle it out for the coveted title of World Dairy Expo Supreme Champion. For those select few individuals who have experienced the excitement of showcasing their animals in the Parade of Champions, it's a moment they won't ever forget.

Only 37 animals have had the honor of being crowned Supreme Champion. Wind Drift Countess Nora made Expo history in 1970 when she was named the very first World Dairy Expo Supreme Champion. Following in her footsteps, Expo icons such as Pistachio Pie, Nadine, Beauty and Charity are recognized by everyone in the dairy industry.
SNICKERDOODLE
Certainly an Expo legacy by anyone's standards, Old Mill E Snickerdoodle was first crowned World Dairy Expo Supreme Champion in 2003 as a Four-Year-Old.
"We knew she was special that year," said Allen Bassler, Snickerdoodle's owner. "Even as a Two-Year-Old, her udder was just so extra special. She developed really well, but I never thought she would win Supreme."
In fact, Bassler had booked a plane ticket home after the International Brown Swiss Show and wasn't even present during the Supreme Champion Ceremony. "I called just to check in and see who won," he said. "I didn't believe them when they said she won Supreme. I thought they were pulling my leg."
Snickerdoodle cemented her legacy, returning to Expo and nabbing six Grand Champion titles and back-to-back Reserve Supreme Champion titles in 2008 and 2009. "Every year she was better," said Bassler. "She was the poster child – what you strive to get every good cow to do – get better as they get older, make embryos and the next generation of good, sound cattle that you can breed from."
The up-tick in recognition following a Supreme Champion win is something that Bassler certainly felt after taking home the title in 2003. "It changed everything for me on the dairy end," he said. "You start building relationships in other countries, and it opened up a foreign market."
Snickerdoodle's legacy has stretched across the globe, with offspring in eleven different countries, two of which topped the breed in sale price in England and France. Her influence also continues on at Expo as her son, Old Mill WDE Supreme-ET, was named Premier Sire of the International Brown Swiss Show in 2013, and again last year.
VENUS
TJ Classic Minister Venus-ET made her mark on Expo's history in 2014 for the Sauder family, of River Valley Farm. The Four-Year-Old snagged Grand Champion of the International Jersey Show before being crowned Supreme Champion.

"When I was in the spotlight hearing Venus's name announced, it felt surreal," said Nic Sauder, who exhibited Venus at Expo and manages the family's show string each season. "Nothing will compare to the rush you feel competing against the best cows in the world on the biggest stage in the world."
The Sauder family purchased Venus - who was bred by the Bourne family - after seeing her potential as a Junior Three-Year-Old at Expo and later on at NAILE in Louisville. "When I saw her for the second time, I was pretty sure she was one of the greatest young Jersey cows I had ever seen," said Sauder. "It's obviously never a guarantee that she's going to be 'The One,' but I felt she was on track to be something very special."
Though this was the first World Dairy Expo Supreme Champion win for the Sauder family, they are certainly no strangers to the spotlight. They took home Reserve Supreme Champion honors in 2011 with Pine Haven SSM Marmie, and have nabbed Supreme Champion of the Junior Show four times, as well as Reserve Supreme Champion of the Junior Show twice.
"Our farm has been blessed to work with some really special cows," said Sauder. "If there is a winning formula, it's good cows surrounded by a great team of people and friends - and a lot of luck."
River Valley Farm has had a quick rise to the top, exhibiting at Expo for the first time in 2007. In that short time, Sauder said he has seen increased recognition of their genetics by Jersey and non-Jersey breeders, alike, as well as internationally. "Winning Supreme helped bring awareness of our genetics to people we wouldn't ordinarily have been able to impact," he said.
So what is the view like from the top? "I've always enjoyed the front-row seat you get when competing against legends from other breeds," said Sauder. "It's just an honor to be selected to represent your breed, and anything after that is a bonus."
REDROSE
Though Holsteins have dominated the Supreme Champion ceremony over the years, Mark Rueth of Rosedale Genetics, LTD., made history in 2005 with Lavender Ruby Redrose-Red, the first - and only - Red & White to be named World Dairy Expo Supreme Champion.
"Sometimes the stars are all aligned and everything goes just right," said Rueth. "Redrose was special – a decedent of Blackrose, a cow I was hoping to win champion at Expo but never did."
Rueth is no stranger to special cows. He first took home Reserve Supreme Champion honors in 1995 with Westlynn Tom Dee. Shortly after, Vandyk-K Integrity Paradise became a two-time Supreme Champion for Rueth in 2000 and 2002. The most recent win for Rosedale came in 2006 with Reserve Supreme Champion, Kinyon Linjet Ideal.
"Every animal came around in a different way, but you don't look at an animal and say, 'She will be Supreme,'" said Rueth. "You're selecting a great individual that will make a good cow, and you just hope to win a class at Expo."
As Rueth knows, winning a class at Expo isn't easy. "The show gets better every year, and udders are getting better every year," he said. "You get a small window to have the judge see them at their best. You either have it, or you don't."
Though Redrose currently holds the sole Supreme Champion title for the Red & White breed, Rueth is confident it won't be long until another great cow tops the competition. "Winning Supreme is the best. Period. And having the only Red & White is awesome," he said. "As much as the breed has improved, it won't be long before the next Red & White Supreme Champion comes along."
Winning Supreme - no matter the breed - is an incredible accomplishment. The owners and breeders of Expo's 37 Supreme Champions have made their mark on Expo history and paved the way for the next generation of Supreme cattle.
So, who will be the next to add their name to Expo's history books? Only time will tell.

| | | |
| --- | --- | --- |
| Year | Animal | Owner |
| 2015 | Lovhill Goldwyn Katrysha | MilkSource Genetics, Kaukauna, WI |
| 2014 | TJ Classic Minister Venus-ET | Nic, Jeni, Ben & Andy Sauder, Tremont, IL |
| 2013 | Bonaccueil Maya Goldwyn | Ty-D Holsteins, Drolet & Fils, Ferme Jacobs, A & R Boulet, Inc; Cap-Sante, QC Canada |
| 2012 | RF Goldwyn Hailey | Gen-Com Holstein Ltd, N-D of Bon Conseil, QC Canada |
| 2011 | Eastside Lewisdale Gold Missy | Morsan, Van Ruinen Dairy, M Butz, G Andreasen; Ponoka, AB Canada |
| 2010 | Harvue Roy Frosty |  M & J Duckett J & N Junemann, S. Armbrust, Rudolph, WI |
| 2009 | Harvue Roy Frosty |  M & J Duckett J & N Junemann, S. Armbrust, Rudolph, WI |
| 2008 | Thrulane James Rose | Pierre Boulet, Montmagny, QC, Canada |
| 2007 | Indian Acres MM Pistachio Pie | Ashley Elise Sears, South Deerfield, MA |
| 2006 | Huronia Centurion Veronica | Arethusa Farm, Litchfield, CT |
| 2005 | Lavender Ruby Redrose - Red | Mark Rueth, Rosedale Farm, Oxford, WI |
| 2004 | Hillcroft Leader Melanie | Arethusa Farm, Litchfield, CT |
| 2003 | Old Mill E Snickerdoodle | Allen Bassler, Jr. Upperville VA |
| 2002 | Vandyk-K Integrity Paradise | Mark Rueth, Kent & Trish Van Dyk, Jefferson, WI |
| 2001 | Tri-Day Ashlyn-Et | Ernest Kueffner & Oseeana Holsteins, Boonsboro, MD |
| 2000 | Vandyk-K Integrity Paradise | Mark Rueth, Kent & Trish Van Dyk, Jefferson, WI |
| 1999 | Rainyridge Tony Beauty | Stanhope-Wedgwood & Ray Brown, Victoria, BC |
| 1998 | Acme Star Lily | Alta Genetics, Continental Holsteins & Everett Simanton, AB Canada |
| 1997 | Boalcrest Sterling Silver | Oscar Dupasquier, Guelph, ON Canada |
| 1996 | Waymar Patrick Nadine | Elliott Kueffner, Winston-Salem, NC |
| 1995 | Rainyridge Tony Beauty | Ray Brown, Vista, MB, Canada |
| 1994 | Hoosier Knoll Jade Monay | Steve Hendress, Wolcott, IN |
| 1993 | C Merkley Starbuck Whitney | Twin Wind/Tokachi Livestock Management, Bridgewater, CT |
| 1992 | C Merkley Starbuck Whitney | Twin Wind/Tokachi Livestock Management, Bridgewater, CT |
| 1991 | C Rossland Astro Kat | Gay Ridge & Kingstead, Ijamsville, MD |
| 1990 | Enns Banner Olivia | Carol Keen, Pretz Holsteins, Osawatomie, KS |
| 1989 | Lyndale Convincer Elaine | Lyndale Swiss, T,R,L Hellbusch, Humphrey, NE |
| 1988 | Lyndale Convincer Elaine | Lyndale Swiss, T,R,L Hellbusch, Humphrey, NE |
| 1987 | Brookview Tony Charity | Hanover Hill & Romandale, Port Perry, ON Canada |
| 1986 | Gil-Bar Unique Bonnie | Pinehurst, Nabholz, Fisher, Elginvue & Shamsie, West Union, IA |
| 1985 | Brookview Tony Charity | Hanover Hill & Romandale, Port Perry, ON Canada |
| 1984 | Brookview Tony Charity | Hanover Hill Holsteins, Port Perry, ON Canada |
| 1983 | Millervue Ultimate Rosalyn | Dreamstreet Holsteins, Millerton, NY |
| 1982 | Brookview Tony Charity | Hanover Hill & George Morgan, Port Perry, ON Canada |
| 1981 | J-WS Monitor Racheal | Hanover Hill Holsteins, Port Perry, ON Canada |
| 1980 | Northcroft Ella Elevation | Woodbine Holsteins, Airville, PA |
| 1979 | Cleverlands Darimost Chrystal | Les Lurvey & Sons, Baraboo, WI |
| 1978 | Browndale Fury Echo Christie | Browndale Farm, Paris, Oshawa ON Canada |
| 1977 | JPG Standout Kandy | Hanover Hill Holstein, Millerton, NY |
| 1976 | Theynor Hagen Cindy | T Robert Flett, Oshawa, ON Canada |
| 1975 | Oak Ridge Kellys Rosid | Pinehurst Farms, Sheboygan Falls, WI |
| 1974 | Gene-Acres Felicia May Fury | Felicia May Associates, Ft. Atkinson, WI |
| 1973 | Wataview Mark Babe | Henry Bartel, Ellsworth, WI |
| 1972 | Wind Drift Countess Nora | Allen Dairy Farm, Mechanicsburg, PA |
| 1971 | Kanza Matt Tippy | Paclamar Farms, Louisville, CO |
| 1970 | Wind Drift Countess Nora | Allen Dairy Farms, Inc, Mechanicsburg, PA |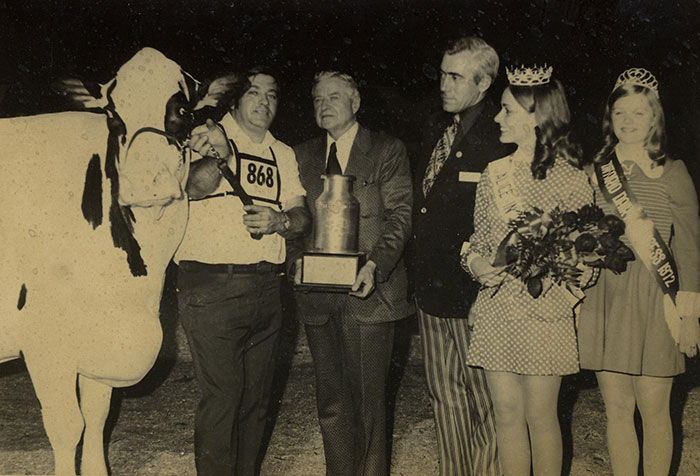 World Dairy Expo first introduced the Supreme Champion concept in 1970. Wind Drift Countess Nora, owned by Allen Dairy Farms, was named the first-ever Supreme Champion. She would go on to win the title again in 1972.



An Expo icon, Brookview Tony Charity, is Expo's only four-time Supreme Champion winner, capturing the title in 1982, 1984, 1985 and 1987.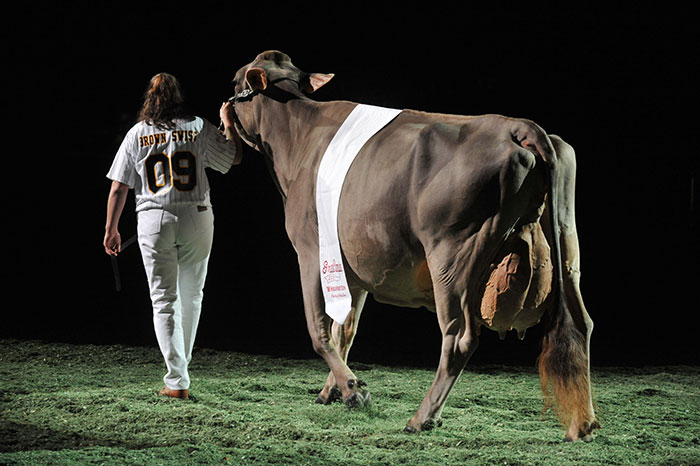 Old Mill E Snickerdoodle first captured the title of World Dairy Expo Supreme Champion in 2003. She also snagged back-to-back Reserve Supreme Champion titles in 2008 and 2009.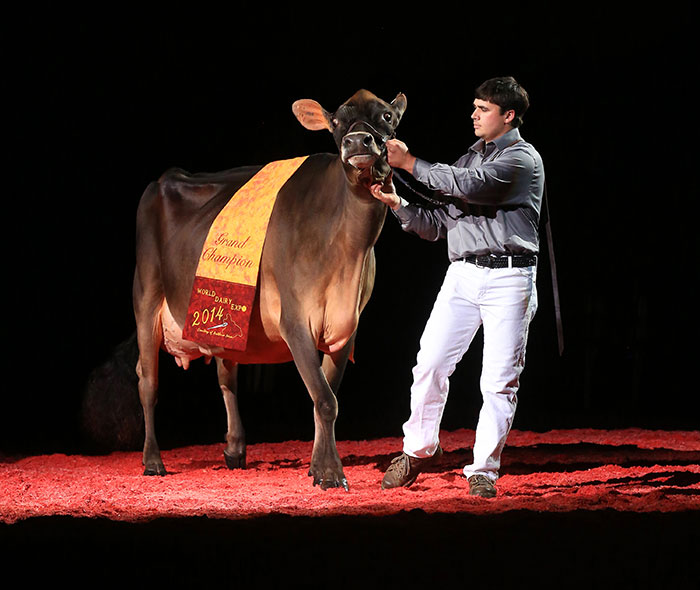 TJ Classic Minister Venus-ET added her name to the list of Expo legends when she was crowned Supreme Champion at the 2014 show. (Photo Credit: Nina Linton Photography)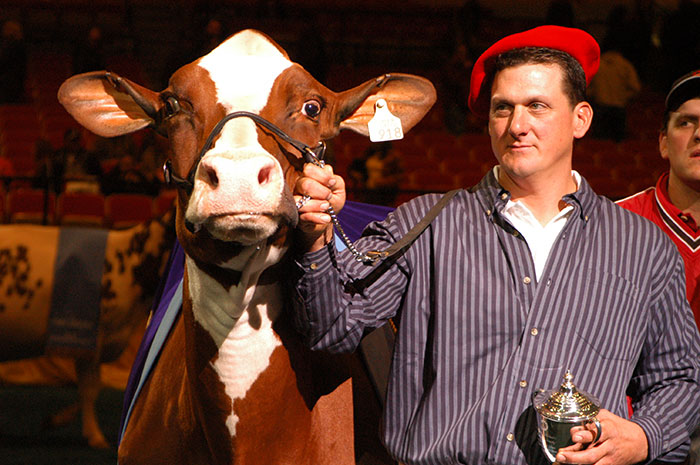 Lavender Ruby Redrose-Red made history as the first Red & White to be named Supreme Champion at World Dairy Expo in 2005.
Youth Contests Find a Successful Home at World Dairy Expo®
World Dairy Expo is known as the place where the dairy industry meets, but for many youth participants, it's where they meet the dairy industry.
It began in 1977 when the decision was made to move the National Judging Contests from Columbus, Ohio, to World Dairy Expo in Madison, Wisconsin. With this move, Expo welcomed 36 Intercollegiate and 36 4-H judging teams to the grounds. This step was the first in a series of many that have helped to establish Expo as a great place to gain experiences as a youth and to meet key dairy influencers.
Realizing this, the Post-Secondary Colleges decided in 1989 that they, too, wanted to be involved with a national judging contest at World Dairy Expo. The contest is a two-day event that has contestants judge classes of linear evaluations, mating, commercial and registered heifers, a practical, as well as the traditional judging classes.
A few years prior, in 1984, the Youth Showmanship Contest was introduced to Expo's Junior Dairy Cattle Show exhibitors with great success. This success comes from the combination of the best youth and the best judges participating.
"We nominate judges and vote on who we think would be best suited for the role – all the nominees are outstanding showmen, youth advocates and know their guidelines," says Katie Coyne, the Showmanship Superintendent for World Dairy Expo.
For the first time, one of the judges of these contests is coming from a place other than North America. Lucy Carter Middleton, this year's Junior Division judge, is coming all of the way from England.
The worldwide participation in showmanship does not stop with the judges, as youth also travel near and far to compete. Youth showmanship participants are not required to show their own animal; rather, they are encouraged to participate in showmanship whether or not they are exhibiting an animal in one of the eight breed shows at Expo. For many kids who live outside of the Midwest, it is not cost productive to bring their animals to Madison.
"It is some young people's only chance to show on the colored shavings at World Dairy Expo," Coyne explains.
For the first 17 years of the showmanship contest, the Senior Division required that the contestants not only be able to show flawlessly, but also to be top fitters. In 2010, however, after the show schedule changed and created conflicts with the contest, Rick Thompson had an idea; the two aspects should be split. The Youth Showmanship Contest stayed on Thursday night's schedule, and the Youth Fitting Contest was moved to the Sunday before the shows.
The Youth Fitting Contest is looking forward to changes once again this year with a new Intermediate division, as well as splitting the groups into males and females. Coyne says she is also looking forward to having the first female judge for the contest this year, Joan Seidel.
Coyne hopes that these choices will help to show young women that there is a future for them as fitters as well.
Molly Sloan, the Training Program Manager for Alta Genetics, once competed in all of these contests as a 4-Her in Illinois, youth exhibitor at Expo and as a member of the intercollegiate judging team for the University of Wisconsin-Madison.
This year, Sloan will be judging on the colored shavings again, but this time as the official judge for the Ayrshire Breed.
"Once I started dairy judging, I became wildly determined to do everything I could to become an official WDE judge," she says.
For Sloan, a few of those steps included competing in the youth contests at Expo. The skills that she took away from them will also be beneficial as she takes center stage. "I learned to stay confident in my own abilities, regardless of how big the stage may be."
With programs that develop practical skills and teach life lessons, youth from across the continent will continue to travel to Madison, WI to compete in judging, showing and fitting contests at World Dairy Expo. As these young people graduate from the programs and continue to return as coaches, volunteers, judges and exhibitors, they ensure that the youth contests at World Dairy Expo will have a rich history and continue to have a bright future.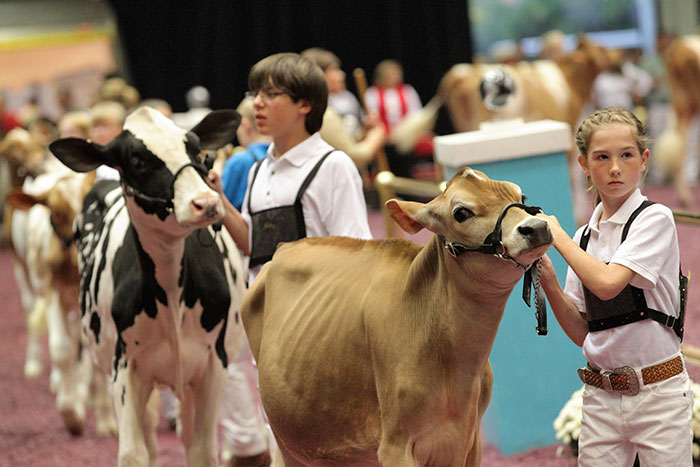 Junior exhibitors come from across North America to compete in the Youth Showmanship Contest on Thursday night of World Dairy Expo.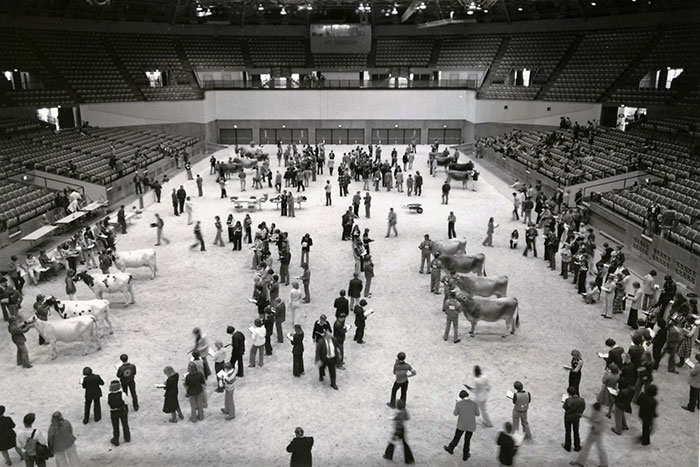 4-H members competed in the first national contest held at World Dairy Expo in 1977.





In 1989, FFA held their first national contest at World Dairy Expo.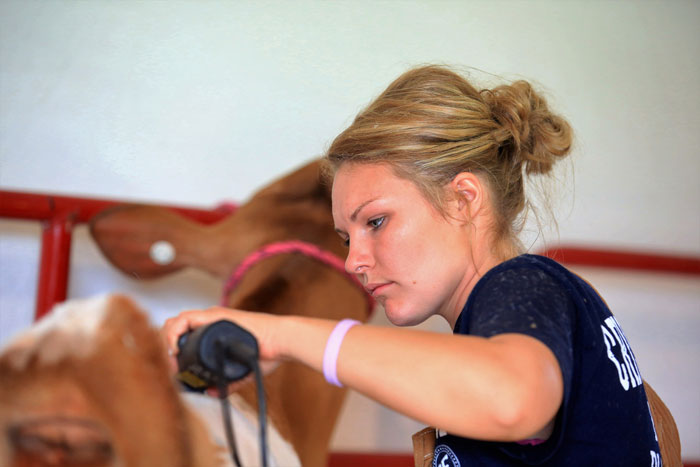 Youth competitors have one hour to get an animal show ready on Sunday during the Youth Fitting Contest.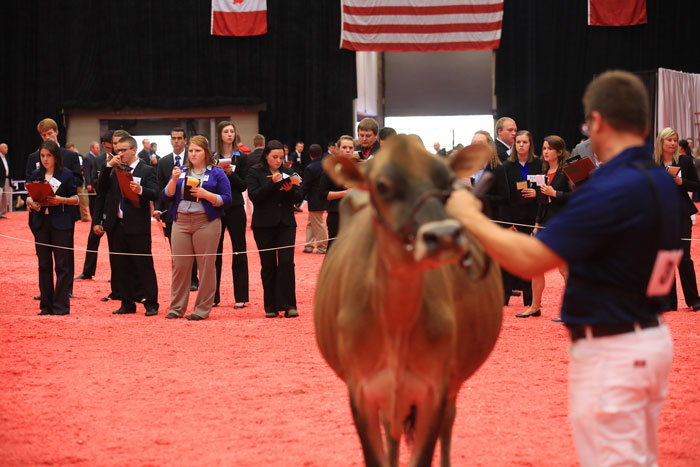 College participants carefully deliberate a Jersey class in 2014.
Just the Beginning for Red and Whites

In 1968, during the 2nd World Dairy Expo®, Red and White cattle walked the colored shavings in their own ring. It would be another 27 years before they had that privilege again.
In the years leading up to 1995, the Red and White Dairy Cattle Association approached the World Dairy Expo Board of Directors multiple times asking for the approval of a Red and White ring at Expo. When it was finally granted, before the 1995 show, Bill Langel received a call asking if he would serve as the breed superintendent.
Langel accepted and has been the superintendent for the International Red and White Show at Expo ever since.
In the early years of Expo, Red and Whites were seen as inferior and unwanted. Many farmers chose to sell them or to breed them to black bulls in hopes of eliminating the gene.
According to Langel, the RWDCA knew that in order for their breed and organization to succeed and be accepted, they needed this show at Expo.
"Because Expo is the NCAA tournament, the world series. They wouldn't be truly accepted until they got into this. They knew unless you show at World Dairy Expo, you haven't made the pinnacle," remarks Langel.
When the news was announced that the Red and Whites would have their own show, the Red and White breeders were ecstatic. They finally had their place at World Dairy Expo.
Langel recalls, "The first few years, the show consisted of a few animals that stood out and the rest were just there. And then it exploded."
This "explosion" happened around 2000 according to Langel. All of a sudden the quality in the animals just appeared.
Nicky Reape Rueth and her husband, Mark Rueth, farm about an hour north of Madison, WI, at Rosedale Genetics, LLC. They started milking cows and showing at Expo together in 2001.
"When we first started, the top couple animals stood out, but the depth in classes was still lacking. This show has progressed in leaps and bounds and has come the farthest out of the shows since its start," said Rueth.
In 2000, when the improvement of quality was being noticed, Lavender Ruby Redrose-Red walked the colored shavings for the first time. No one knew then, that this little Spring Calf would grow up to do what had previously been unachievable.
Rosedale Genetics is the proud home of Redrose. "We were always excited about her, even as a two-year-old. She had the youthfulness that dairy producers hope for," said Rueth.
The lack of maturity was something that she was faulted for in the Showring during her early career. However, that youthfulness paid off when she was exhibited as a 5-year-old at Expo.
In 2005, at 5 years of age, Redrose became the first, and to this date, only, Supreme Champion to come from the Red and White show.
"I can still remember that day perfectly. It was overwhelming and crazy," recalls Rueth of Redrose's victory. "We knew we had something great, but you never go into a show expecting to win. You only hope to do your best."
The best is exactly what Redrose was that year.
While the Red and Whites have not successfully claimed the Supreme Champion title since Redrose, their ring at Expo has become a center of attention and a highly anticipated show.
Everyone watched closely in 2013, when the judge exclaimed, "Bing, Bang, Boom!" With this echoing through the coliseum, KHW Regiment Apple-Red was named Reserve Grand Champion behind her clone, Apple-3, with her daughter, Candy Apple, rounding out the group as Honorable Mention.
The advancements that this breed has been able to make so rapidly, many contribute to the addition of their own show at World Dairy Expo. This acceptance has led many traditional Holstein breeders to work with Red and White genetics around the world, according to both Langel and Rueth.
When Expo first began, most Red and Whites stayed home because they simply could not compete with the Black and White Holsteins. That has all changed now, as Red and White cattle take on the Holstein ring and emerge victorious.
Rueth remarks that she is impressed by the cow families that have developed over the course of the show. In the early years, the animals winning were more like flukes. They were not coming from consistent pedigrees, but now cattle and cow families are returning to the ring year after year and looking better each time.
Langel attributes the improvement to the bulls that are available to breeders. He sees better Red and White bulls all of the time with his position at Select Sires. He believes the track this breed is on now, will continue as more improvements are made.
What started as a modest show in 1995, of 123 animals, has almost doubled, to 236 animals last year. This breed and show are really just only beginning.
"It's only going to continue to thrive. I have been amazed over the last few years in the quality of champions that this breed has to show. They are very exceptional," says Rueth.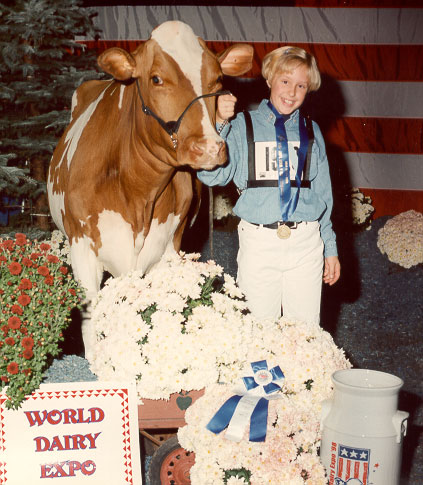 Kristin Natzke shows off her Red and White class winner in 1998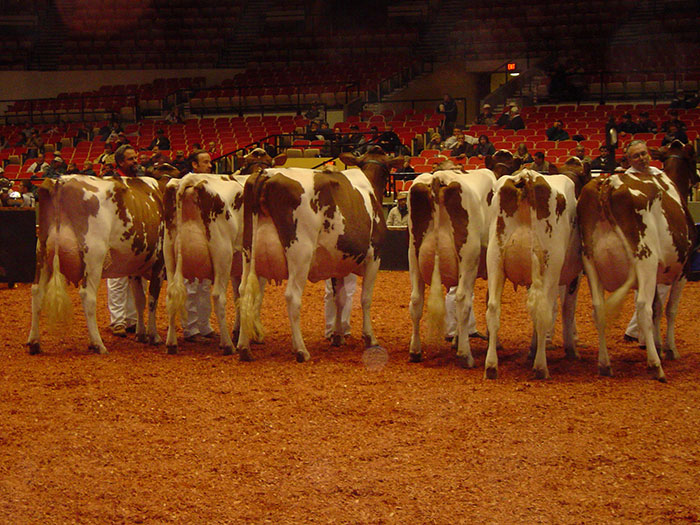 A class of Red and Whites stand in the final line up in 2003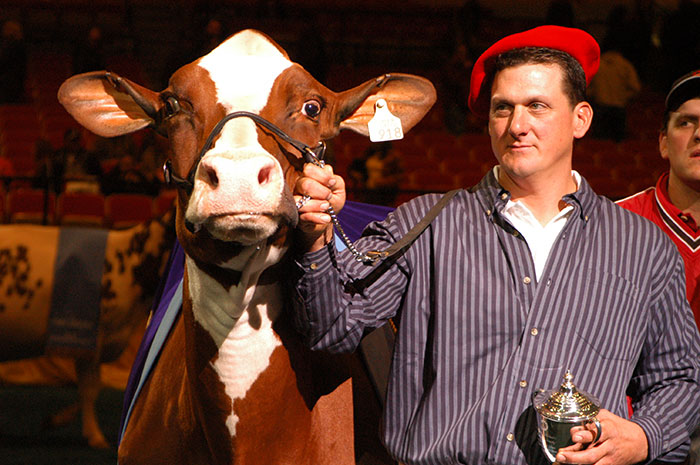 Mark Rueth and Lavender Ruby Redrose-Red pose as the newly named Supreme Champion in 2005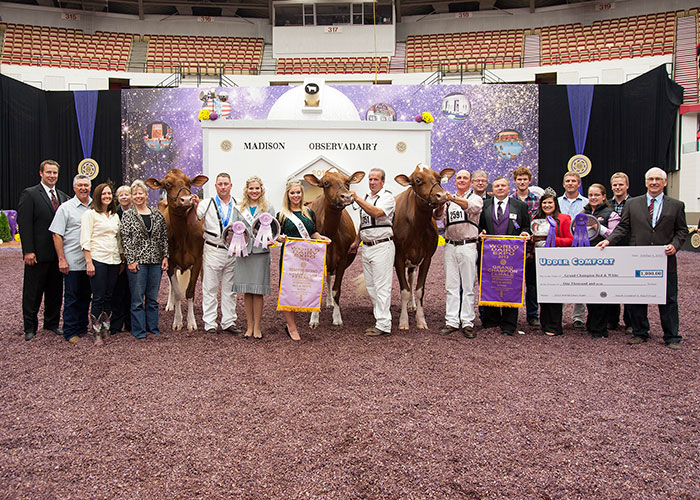 KHW Regiment Apple-Red stands with her clone, Apple-3, and daughter,
Candy Apple for the Champion photo in 2013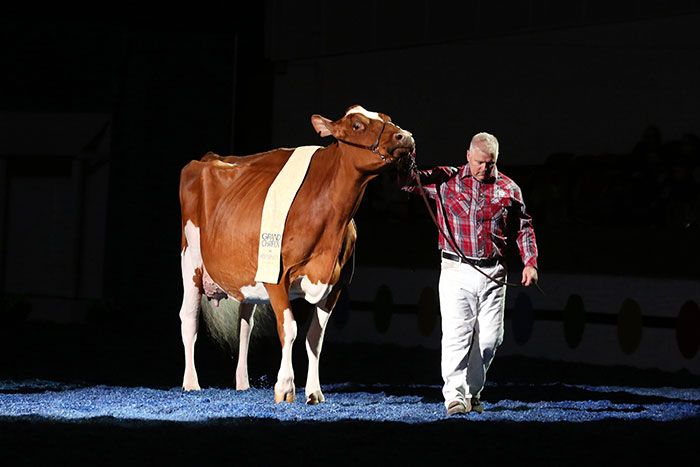 Strans-Jen-D Tequila-Red parades through the ring for the Supreme Champion selection in 2015
---
© 2016 by Dairy Agenda Today. All rights reserved.